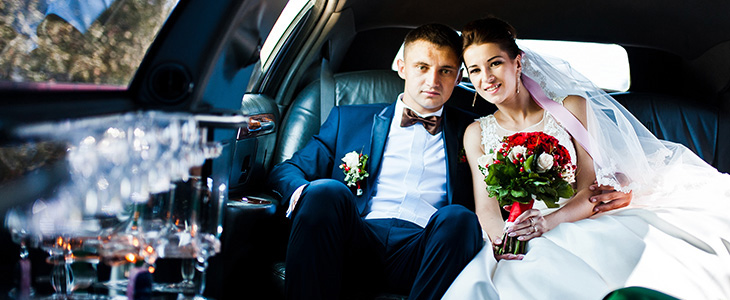 Here at Ajlimonewyork we perfectly understand that your wedding should be a unique and beautiful experience. And we will do everything that we can, and more than that, to make this day a day to remember for all times. All you need to do is to call us any time you wish or book us on line, and our assistants will listen carefully to your requests and then we will find the best, the most practical and the most effective solution for your luxury transportation needs.
The Highest Level Organization for Your Special Day – Trust Our NYC Wedding Limousine
First of all, we will make sure that the security and the comfort of all the guests are at the highest level. You can choose between luxury limousines, sedans or SUVs, depending on your desired wedding style. Our chauffeurs will be specially dressed for this occasion in very professionally-elegant uniforms, and every luxury vehicle will be equipped with the flowers, other requested decorations, foods and beverages like champagnes, chocolates or anything you desire for this special moment.And because our team of experts thinks about every little detail we will also be at your disposal for the bachelorette and bachelor party, and of course we'll be there for you for the rehearsal dinner night. Our pre-wedding luxury transportation services will cover all of your needs and more than that, we'll make sure that you'll enjoy and feel relaxed while fulfilling all of those memorable commitments. Our duties also include airport transfers for your special guests who came out of town and their safe and comfortable journey to the hotel or to the place of reception.
The best Luxury Wedding Transportation in New York City
And when the most important day in your life comes, we will make sure that your bridal party transportation is highly professionally decorated, looking gorgeous and perfectly on time. Transit between the church and reception, transportation of all your guests and shuttle parking services, as well as chauffeured cars for post-reception will be made at the perfect moments without you having to worry about the timing or any other detail you have in mind.Our wedding limo service with organizational experts, our chauffeurs and assistants will be all at your disposal. Enjoy your special day, and we will make this magnificent event look like the genuine royal wedding.