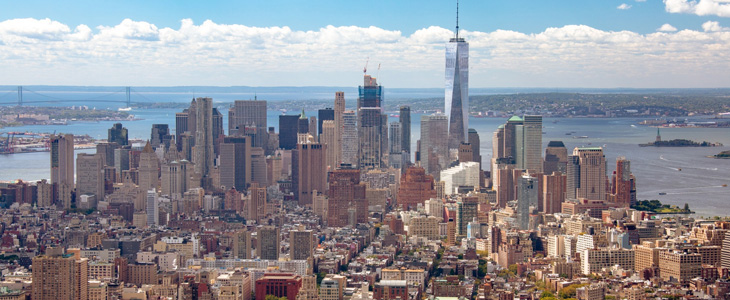 If you are looking for the leading provider of luxurious Manhattan limousine services you are at the right place. Our company's Manhattan limo service is proud to present you our exquisite fleet of limousines, SUVs and sedans. Talking further about the excellence and style, we use the latest and very complex logistics to track and secure our classy vehicles, and our headquarters are non-stop connected with the team of our skilled chauffeurs, who are perfectly trained, courteous and always professionally dressed. Every vehicle we own is outstandingly maintained, checked and cleaned. And we will meet all of your additional requests concerning beverages, special foods or technical items of any kind you might need during the time spent traveling.
Exquisite Transportation Service is Guaranteed With AJ Prestige NYC Limo
Call us or book us online anytime you wish and our assistants will help you to make the best choice for your special occasions, working obligations or a little bit of both. Our Manhattan limo services are highly reliable, adjustable to all your requested or even unexpected needs, and always conducted with the elegance and style. Our reputation relies heavily on the experience of our clients and choosing between our services is a pure pleasure for the clients who already know that we will take them few levels higher then they expect. Whether you need Manhattan – JFK airport transportation, point to point or hourly service, special occasion limousines reservations, romantic and wedding nights or corporate and group transportation, we will thoroughly take care of all the details.
The Best Manhattan Limo Service and Luxury Transportation
Manhattan car service area is specially designed to make your stay at this fascinating part of NYC comfortable and memorable. Although the Manhattan Island is the most densely populated area with the very heavy traffic, we will make sure that you will arrive at the important appointment or a business meeting precisely on time, every time when you use our chauffeured luxury vehicles. Perhaps you have planned to visit some of the most famous NYC museums like the Museum of Modern Art, Metropolitan Museum of Art or many more, or you might want to see some of the Broadway marvelous shows and have a romantic or exclusive dinner with the business associates after, or you simply want to enjoy the leisure time, for any of those events we will be your reliable, secure and classy Manhattan limousine service.
Availability is Our Trademark
We are open practically 24 hours/day 365 days a year. Clients are always able to book a ride from the website at any time they want or call us on the phone during the day. Our customer service will guide you with utter and complete professional approach and all so you can get the most exquisite Manhattan limo service.