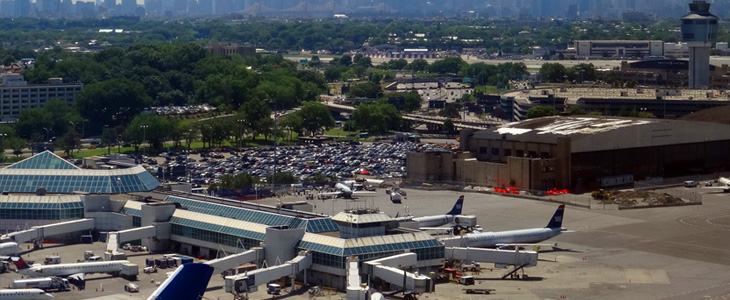 AJ Prestige Limo is proudly presenting exquisite airport limousine service to and from LaGuardia airport in NYC. The leading limo service near LGA is designed with all your transportation needs in mind. Contact us online or via telephone and our trusty customer care specialists will help you make the most out of your airport transport service, not only to LaGuardia but also to JFK, EWR or any other public or private airport near your location. Don't worry about your airport transfer; bask in comfort of black cars from our exquisite fleet for the lowest price imaginable!
Airport Limousine Transfer LGA
Give our team your flight number, and leave the rest to us! It goes without saying that the most reliable limo company has the latest tracking technology, which is used to overview all the flights in the area, so your timely pickup is guaranteed. Whether your flight is on time or delayed for any reason, you will be greeted by a friendly chauffeur when you land. They will take care of your luggage and help you swiftly pass all the airport formalities. You won't have to worry about parking, traffic jams or anything else, because drivers at AJ Prestige Limo know New York like the back of their hand. They are always strictly dressed, discreet and ready to meet all of your unexpected needs.
Perfect LaGuardia Black Car Service
Besides the perfect security, excellent maintenance and wonderful comfort of our fantastic vehicles, foods, beverages, newspapers or electronic gadgets of your choice will be provided too, so you can feel perfectly satisfied. Taking care of all the travelers with special needs or requests for business meetings, road shows, weddings, and sports events is our greatest pleasure. The best chauffeurs in town will make every journey to and from LaGuardia Airport a memorable and elegant experience filled with joy. If you have multiple stops on your way you should consider the benefits of AJ Prestige Limo by the hour service.
LGA Airport Limo Service for Entire NYC Area and Suburbs
All of New York including all surrounding locations and areas is at your disposal when you book services of AJ Prestige Limo. You can get to Manhattan, Queens, Brooklyn, Staten Island,the Bronx and other parts of the New York without hustle. Our team is willing to go all out for the sake of your satisfaction. Let us handle your airport transfer while you enjoy every second of your journey.