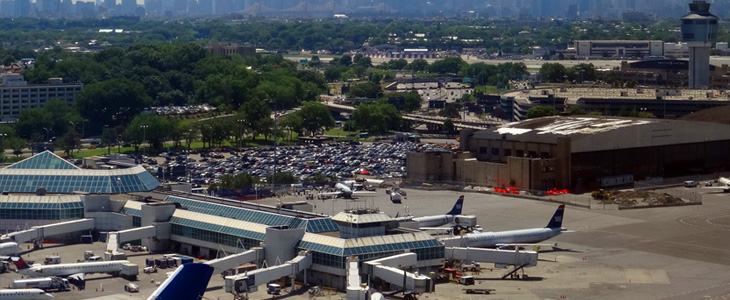 Reliable and Professional LaGuardia Limo Service to Manhattan
Our experienced and courteous chauffeurs are using the latest GPS software in a combo with an exceptional knowledge of Manhattan. This LGA limo service to Manhattan near me will safely take a client from LaGuardia airport to any location in Manhattan area by taking care of their safety in the latest luxury models from our renowned car fleet at best rates in New York. Our great knowledge of New York streets and a 24/7 availability are some of the prime reasons why all the positive reviews are coming AJ Prestige NYC Limo's way!
Deluxe Fleet for Premium LGA Limo Service to Manhattan
The best fleet in town boasts a variety of trendy sedans, such as Lincoln MKS and Cadillac XTS, luxury SUVs, exceptional vans and stretch limos nearby poised with the comfort and elegance. All our cars are well kept, impeccably clean and will most certainly satisfy the standards imposed even by the most demanding of passengers. If you are headed to or from the airport (may it be LGA, JFK, EWR or any other in the area) sit back and enjoy the ride in one of the sporty sedans, roomy SUVs or modern vans. With AJ Prestige NYC Limo by your side, you will never have to worry about the traffic on your way to the airport again, because our skilled and experienced chauffeurs have it all covered!
Dependable LaGuardia Limo Service to Manhattan
Our LGA black car service to Manhattan near you is designed in a way to take you from LaGuardia from any point of interest in Manhattan and vice versa. Besides Manhattan, AJ Prestige NYC can take you to Staten Island, The Bronx, Brooklyn or Queens, anywhere in New York really, just pick the desired location. If you are staying at Esplanade Manhattan and you already booked a flight from LaGuardia, our team will make sure that a liveried chauffeur awaits you in front of this luxury hotel, in an equally luxurious sedan. Or, maybe you have a meeting to attend in Manhattan Business Center because you are in search of a new executive office in this area, just after you have landed in LaGuardia? The scenarios may vary, still, the quality of our luxury car services remains the same.
LGA Limo Service for Manhattan – Great for Both, Individual and Corporate Needs
This means that the nearest Manhattan to LGA limo service packages are equally suitable for both personal and business needs, if you are looking for a chauffeur that will safely take you from point A to the point B, or perhaps you are in need of an hourly or a road show service, because you will be occupied throughout the entire day, with numerous business meetings, conferences or seminars that take place in different city zones. All in all, the travel possibilities with us are endless, meaning that you will get the best possible NYC service every time, whether you require a ride to a sports event, homecoming or even the doctor's appointment.